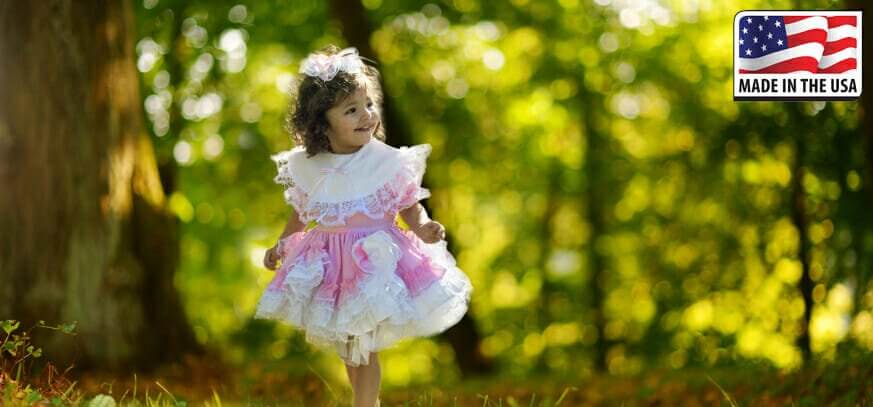 Showing all 9 results
Combo Specials Save 10%!
Lidl Dolly's Dresses
What better way to commemorate a trip to the Great Smoky Mountains than with a beautiful southern belle dress for your little girl from Lid'l Dolly's Factory Store? Colorful, vibrant and enchanting, Lidl Dolly's dresses are handmade right at our factory store in Pigeon Forge, TN, and they couldn't be lovelier. Each dress features incredible attention to detail, and new designs hit the racks all the time. If you can't make it to Pigeon Forge but still want to buy a pretty dress for a special little girl, don't worry--you can order these unforgettable pieces through our convenient online store.
Southern Belle Dresses for Little Girls
While Lid'l Dolly's is primarily known for our incredible selection of gorgeous quilts, we also distinguish ourselves through our huge lineup of utterly charming southern belle dresses for little girls. If your daughter, granddaughter, niece or other little girl in your life would enjoy dressing up like a southern belle, you can't go wrong by purchasing one of these exquisite dresses. Lidl Dolly's dresses for girls are available in sizes newborn through girls' 6X, and they are offered in a vast array of styles, colors, patterns and designs.
Every Little Girl Deserves a Beautiful Southern Belle Dress
Playing dress-up is one of the most popular pastimes for little girls, and most have at least a few items in their toy chests. Few, however, have something as unique and special as a southern belle style dress from Lid'l Dolly's Factory Store. In years past, the only way to get your hands on one of these dresses was by visiting our vast factory store in the heart of Pigeon Forge. Now that we have a full-fledged online store, however, you can order one whenever the mood strikes. Gift-buying for the holidays and birthdays just got a lot easier!
Check Out Our Dresses Today!
At Lid'l Dolly's Factory Store, we love nothing better than greeting visitors to our store and watching the amazement on their faces as they browse our selection of quilts and southern belle dresses. We hope that you are able to pay us a visit in person sometime soon to browse through our gorgeous dresses for little girls, which include lovely features like flared, tiered skirts, ruffled hems, lace trim, puffy sleeves, bows and other pretty touches. Until then, please browse our selection online. You're sure to find plenty of beautiful options for that special little girl in your life. Place your order today!